These days I'm less connected to the animal rights movement and less present on social media, so I'm not on top of trends, but for a while intersectionality was a BIG THING. It's always been bullshit, but I thought people had moved onto different framing, different language…. like "radical veganism". I guess I was wrong. Getting back on facebook has me coming across pro-intersectional posts from vegans, so the bs still needs pointing out.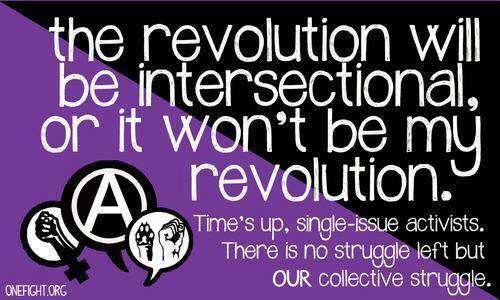 I see the appeal of the punchy, self-righteous language, but this is empty virtue-signalling. The people who popularized "intersectionality" in the animal rights movement are in no way fighting against ALL oppression. Or even the most widespread oppressions. Who right now is organizing against the wars in the Middle East? What vegans are working with the labor movement? And don't get me started on how the "intersectional" crowd is purging women who speak up for women from the movement.
These messages are harmful because they shame people away from their activism. Single-issue activism is completely fine as long as it doesn't serve to oppress others. Yes, your animal rights activism should not become a vehicle or an excuse for racism. This is not the same as saying that if you spend time on animal rights activism you must also spend some time doing anti-racism activism. Basically, this is an All-Lives Matter response to animal rights or whatever other activism is being shamed (typically animal rights or women's rights; other movements are more often left alone to do the limited good they do).