Please support these women who were attacked at the Dyke March by the ever-woke gender ideologues.
Three weeks ago a small group of lesbians was attacked at the San Francisco Dyke March for asserting that they were, well, lesbians. This is where gender ideology has gotten us. Homophobia is cool again and self-professed progressives are too afraid of being chastised for wrongthink to activate their brain cells and think about what they're condoning. Enough with the ID politics, time for critical analysis.
My analysis (and that of many others) is that gender ideology harms all women and girls and especially lesbians, and San Francisco has been proving me right. After the library exhibit celebrating violence against women, we get lesbians attacked at a march that was supposed to be for them, in a city that used to be known for being gay-friendly.
It's truly scary to see how quickly a movement can be co-opted and colonized, and this is something that warrants reflection from anyone who is involved in a social movement. I admire the courage of San Francisco and London lesbians who are reclaiming their movement and their marches in the face of hostility, slander, and even "actual" violence.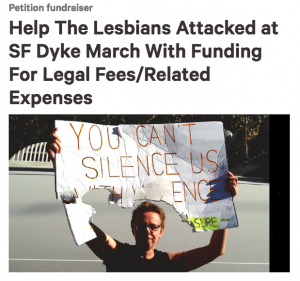 After the women were attacked at the SF Dyke March, the march, the National Center for Lesbian Rights and the Bay Area Reporter posted defamatory statements about them. Please support them by signing their petition for a retraction of these statements and by  supporting their fundraiser for legal expenses.
Read the statement of the women who protested the London Pride:
Get The L Out