To allow males to play on women's sports teams or to access resources for women is a slap in the face of all women who have experienced discrimination on the basis of their sex, i.e. all women.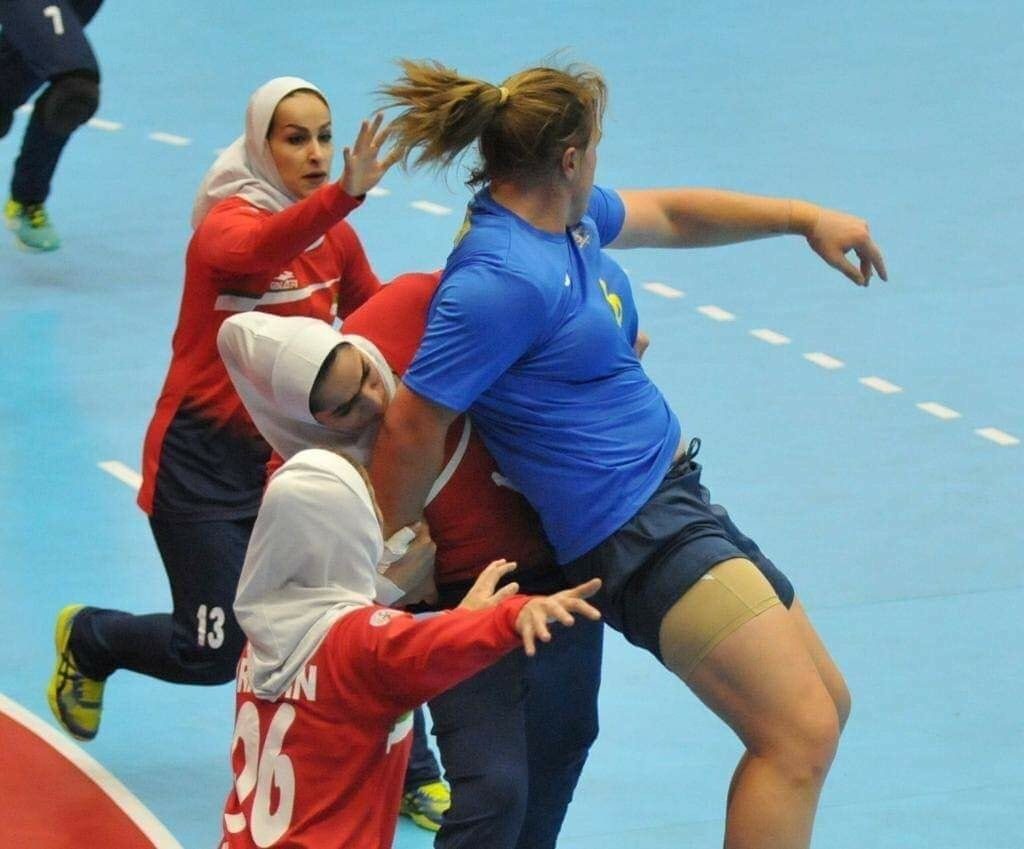 Earlier this month, the all-female Iranian handball team lost to the Australian team at the Asian Handball Championship. Iranian women were made to fight against a trans-identified male–someone who has the benefit of male physiology. It's no surprise the Iranians lost; there is a reason sports are usually separated on the basis of sex.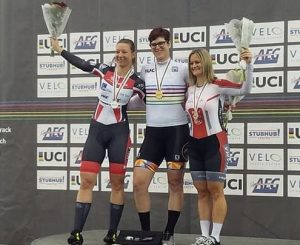 The transgender player on the Australian women's handball team is Hannah Mouncey, who played on the Austrialian men's handball team before his transition in 2016. Last year, he played for a women's Canberra Australian football team, where a woman's leg was broken as he tackled her. Men are generally bigger, stronger, and have a larger lung capacity than women. Taking estrogen in adulthood does not erase the physical advantages of having gone through male puberty. After Fallon Fox, a trans-identified male MMA fighter broke the skull of his female opponent, the latter said "I've fought a lot of women and have never felt the strength that I felt in a fight as I did that night. (…) I've never felt so overpowered ever in my life and I am an abnormally strong female in my own right."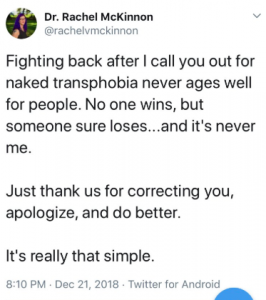 So men are taking women's spots and winning, sometimes breaking bones in the process. For some people this is a non-issue because transwomen ARE women. End of discussion. But what does that actually mean and entail?
Until now, the words man and women have been defined on the basis of biological sex. A woman is an adult human female, and female is the sex that produces ova. To say that transwomen are women means that we are changing the definition of woman. Gender ideologues do not have a clear, consistent proposal for what this new definition would be and when put on the spot, they opt for the circular "a woman is anyone who feels like a woman" (of course, nobody can know if they feel like a woman if there is no definition of woman to which to refer, but I digress). But the idea is usually that "woman" is to be redefined by "gender identity", an internal and innate sense of one's gender that gender ideologues believe we all possess.
Under this new definition, the category of woman includes both people who produce ova and people who produce sperm. The new definition of man is someone whose gender identity is male, and the category of man includes people with vaginas and people with penises. The ramification of this is that someone with a penis, a larger body and more musculature can "identify" into a woman's sports team and compete against women who are not only substantially smaller and weaker, but who have been historically and systematically disadvantaged because of institutional sexism.
Sports are segregated on the basis of sex because of natural differences between men and women's bodies, but sex-specific programs and resources also serve to redress – to a small extent – the disadvantages that patriarchy has imposed on women. Being able to compete professionally was until recently denied to women (in the case of tobogganing in Switzerland, as recently as 2018) and women's sports are still underfunded.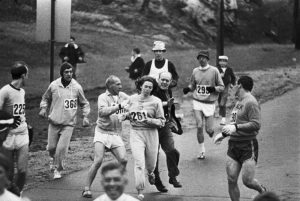 The discrepancy in opportunities afforded to women and men, in sports as elsewhere, has been based on biological sex: someone born with a penis has not faced the same obstacles as someone born with a vagina. When the race official of the 1967 Boston Marathon tried to physically remove Kathy Switzer from the marathon, he didn't ask her how she identified. He knew she was a biological female and that was the marathon's official criteria for excluding her.
So where do transwomen fit into this history?
Social justice folks give great importance to hierarchies of oppression, where people who are perceived as the most oppressed are to be centered and prioritized. We are repeatedly told that transwomen are the most oppressed of women (and of all marginalized groups), but this doesn't stand up to scrutiny.
Let's start with the observation that we live in a world in which being born with a vagina comes with a host of disadvantages, starting in the womb. In a recent article, Dominican feminist Raquel Rosario Sanchez describes the rise of sex-selective abortion: Female fetuses are aborted and female babies are killed so frequently that in 2018, over 20 countries have documented sex imbalances. A report published by the United Nations Population Fund, titled, "Sex Imbalances at Birth," says that the masculinization of demographic trends is "not a natural phenomenon but is achieved through a deliberate elimination of girls."
Nobody knows how these babies identify, nor do they care. They are hated because of their biological sex. As Sanchez puts it, 'Policy-makers and "gender identity" scholars may not care about biological sex, but it turns out that patriarchy does care very much about the female bodies of women and girls.' Girls are married off to older men; sold into sex slavery; genitally mutilated; denied an education and the right to inherit property; told they are stupid; socialized to hate their bodies; objectified and sexually assaulted; excluded from careers and public space; all on the basis of being of the class of humans that produces ova. If you disagree with this, you disagree with the very founding premise of feminism. There are plenty of people who believe that females hold privilege over males, but until recently these people didn't call themselves feminists.
Transwomen belong to the class of humans who produce sperm and were born with penises and XY chromosomes. If transwomen are women, then they are women who did not experience the same oppression as women born with XX chromosomes. If need be – for safety at night or a leg up at work for example – transwomen can choose to hide their "authentic selves" and let the world assume they are men. (A painful experience perhaps, but certainly less painful than being raped for walking home alone) In other words, if transwomen are women, they are women with male-passing privilege. If "woman" is to be a category comprised of "transwomen" (women with penises) and "ciswomen" (women with vaginas), it follows that transwomen are the most privileged of women, not the most oppressed.
When it comes to sex-specific spaces, resources and policies, one's definition of woman is not really the problem, because changing the definition of woman does not change the rationale under which these spaces, resources and policies were created. If the words "man/woman" no longer relate to sex, then they should no longer be relevant to one's placement in athletics. If language is to be updated, so should policy: we would segregate sports explicitly on the basis of body parts, in keeping with the whole point of sex-segregation. We'll have teams and competitions for "people born with penises" and others for "people born with vaginas".
"I was angry about the human talent that was lost just because it was born into a female body, and the mediocrity that was rewarded because it was born into a male one." – Gloria Steinem
Affirmative action and resources for women exist to counter the effects of the institutional and cultural obstacles that women have faced for millennia. My grandmother, Frances Sarnat Hugle, was a Silicon Valley pioneer at a time when female engineers were an anomaly. Many of her accomplishments were erased or downplayed both in her life and her death; nonetheless, a scholarship for female engineering students was recently set up in her honor. If gender ideologues have their way, male students could be awarded the scholarship if they state that they identify as female, despite not having shared the struggles of women in STEM.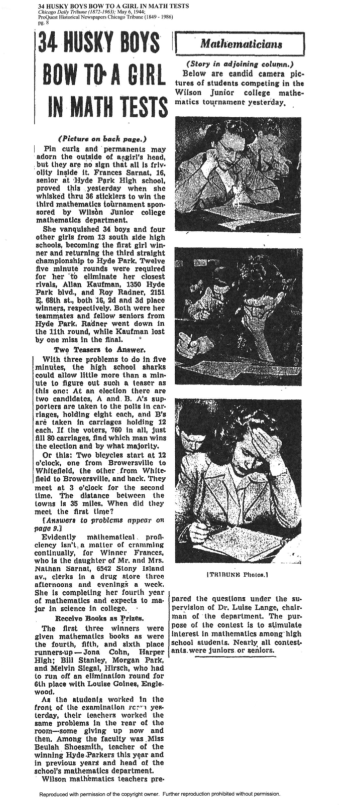 At 16, my grandmother defied the strict gender norms of her time by winning a math tournament. An article from the day illustrates the belief that girls are intellectually inferior: "Pin curls and permanents may adorn the outside of a girl's head, but they are no sign that all is frivolity inside it. Frances Sarnat, 16, senior at Hyde Park High school, proved this yesterday when she whisked thru 36 sticklers to win the third mathematics tournament sponsored by Wilson Junior college mathematics department."
It's been shown that teachers are biased against girls in respect to their math ability, which in turn impedes girls from pursuing careers in STEM. Compare this to the hypothetical situation of a 16 year old transgirl in 1944. This person would have been read as male and sailed through his school years and career, he'd be welcomed in male-dominated spaces and his accomplishments readily recognized as his. After cashing in on decades of male privilege, this celebrated engineer would announce that "she" had always felt like a woman inside. If the IEEE Frances B. Hugle Scholarship is ever awarded to a male student, it will be a slap in the face of all women in STEM and an insult to my grandmother's memory.
The concern about opening women's spaces and resources to males is not just about transwomen, but also men who will pretend to identify as trans. There is currently no external criteria to verify who is trans (let alone a coherent and consistent definition of what trans means). Trans activists are pushing for self-declaration to be the only criteria and have made impressive headway in getting policies changed accordingly; from changing rooms to prisons to women's colleges. It should be obvious that this can lead to men falsely declaring themselves trans to access women's spaces and resources. This reddit post by a man asking if he should change gender on his ID to access women's scholarships illustrates the ease and nonchalance with which men will participate in the evisceration of women's gains.
Men are elbowing women out of our spots as they are increasingly feted as the best of women, like Caitlyn Jenner, a Glamour woman of the year. And at the same time that transactivists lobby for male access to women's spaces and resources, men's rights activists are fighting to dismantle women's scholarships and programs altogether. What differentiates these movements when their activism leads to the same results? More and more it seems that transactivism is men's rights activism in drag.