The Local Butcher Shop in Berkeley sells what foodies consider the right type of meat: grass-fed, pasture-raised, hormone-free, happy animals, all that jazz. They offer daily sandwiches with ingredients like roasted corn tapenade, soft-boiled duck eggs, herbed aioli and nepitella (I had to look it up too). They also offer butchery classes, where those who are seduced by the esthetic of artisanship can learn to hack away at the corpses of pigs, chickens, fish, even deer. Happily, these classes have been the object of protests by animal liberation activists.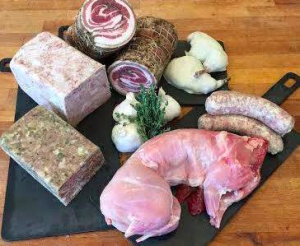 On July 10, The Local Butcher Shop posted this picture to Facebook with the caption "Bastille Day is this Friday, July 14th, and we've got you Francophiles covered: French onion soup, garlicky Toulouse sausage, Boudin Noir (blood sausage), Crépinettes, pork rillons, duck rillettes, duck confit, whole rabbits & chickens. Call us to place an order! Vive la France!"
I really hope that in 20 years we will look back on this gleeful barbarianism in disbelief. And even while the food movement has been turning ex-vegans into carnists, the renewed vigor of the animal liberation movement has me hopeful. Last week in San Francisco I participated in our city's first March to Close All Slaughterhouses, and intrepid open rescue networks as well as a slaughterhouse vigil movement are compelling the world to finally empathize with farm animals.
There is nothing surprising to me about using Francophilia to sell meat. In recent years the vegan movement seems to have exploded in Europe, but when I was a kid in Europe it truly was more difficult to be veg*n, and when I would visit the Bay Area, it felt like such a breeze. Then a reversal started around the time I moved to the Bay Area (2010), largely due in my opinion to different streaks of identity politics. One was the idea that Europeans are more nuanced and sophisticated, and so instead of rejecting all animal products, they eat the right kind.
Under Bush, many Americans felt self-conscious and strove to imitate Europeans in an effort to distinguish themselves from all the other "dumb Americans". Appreciation of local cheeses and artisanal sausages soon conveniently fell into this fold. Veganism was another example of misplaced zeal from Americans who, untethered to tradition and lacking nuance, swing from the extremes of fast food to fat free. San Franciscans especially seemed to have something to prove. After traveling to New York and witnessing an amazing vegan scene, I moved to San Francisco to see vegan businesses shutting down, ex-vegans popping up en masse, and carnism as a new enlightenment.
The problem was that people accepted a framing of the issue that is wrong. Veganism is not about refraining from a type of food entirely versus consuming with distinction and moderation. It's about rejecting the entire notion that certain animals are food. When I lived in Europe, not a week went by without someone dropping the thought-terminating cliché "faut manger de tout" ("one must eat of everything"). I don't have much of a problem with that message per se; the question is, what constitutes "everything"? The word everything is used as a synonym for "every food". In my opinion, animals are not food. In the opinion of those people, certain animals are. Discussions should have centered on this difference, instead they were dismissed.
When a European travels to Asia and sees dogs raised for food, they don't nod appreciatively and say that some dog meat in moderation is a wise food choice. No, they constantly lament the fate of the dogs (I speak from the experience of having traveled in Asia with Europeans). They wouldn't be very open-minded if a local told them "faut manger de tout". Where vegans departed from the mainstream is that we questioned why society doesn't afford the same empathy to those defined (in the West) as "farm animals" as it does to dogs. Not coming up with a good answer, we changed our ways.
Veganism is about changing our social norms and social relations with other animals, and I think Bay Area folks should have been proud of our willingness to do this.
Now the Bay Area is stirring again. As a result of the above-mentioned protests, The Local Butcher Shop agreed to post an animal liberationist message on their window front; a likely first in the history of all butcher shops. The Bay Area is marching towards animal liberation; let's be unwavering this time.